Hallo of Mirrors of the Residence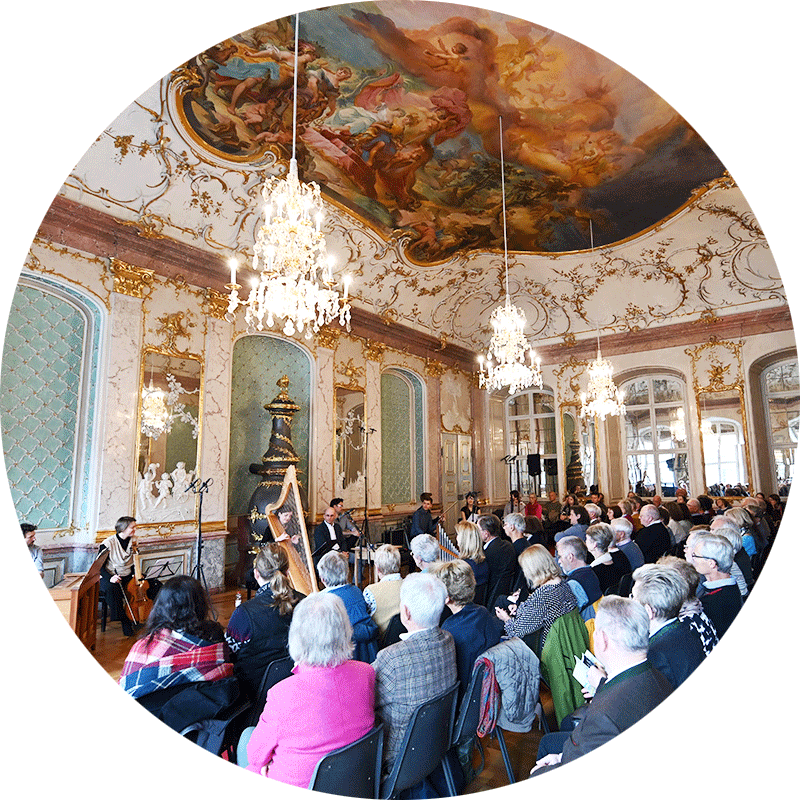 The Hall of Mirrors is the most magnificent room of the former prince-bishop's residence, which connects to the south side of the cathedral with its large baroque three-wing complex. The residence is the work of Eichstätter court building directors Jakob Engel, Gabriel de Gabrieli and Maurizio Pedetti. Martin von Eyb had Jakob Engel build a new residence on the site of the so-called "Old Court", the west wing of which had already been completed in 1702. Gabrieli completed the bishops Johann Anton I. Knebel von Katzenellenbogen and Franz Ludwig Schenk von CasteIl until about 1725 Construction.
In 1767/68 Prince Bishop Raymund Anton Graf von Strasoldo had the hall of mirrors and the staircase in the west wing installed by Pedetti; the ceiling paintings are by Johann Michael Franz and the stucco work by Johann Jakob Berg. The last Prince-Bishop Joseph von Stubenberg (1790 - 1802) had the interior redesigned in the classicist style. Under the dukes of Leuchtenberg, who ruled the Principality of Eichstätt from 1817, interiors were furnished in Empire style.
Ehemalige fürstbischöfliche Residenz
Spiegelsaal (2. Stock, barrierefrei zugänglich, Aufzug vorhanden!)
Landratsamt Eichstätt
Residenzplatz 1 · 85072 Eichstätt